How Do Workers' Compensation Disfigurement Benefits Work?
Sometimes catastrophic injuries can occur in the workplace that not only result in serious injuries, but also leave permanent scars behind even after they've healed. In situations where the worker is left with permanent scarring or disfigurement, they may be eligible to receive compensation through the workers' compensation system to offset the negative effects of their scarring. This compensation is referred to as disfigurement benefits. Disfigurement benefits are typically paid in addition to any temporary or permanent disability benefits you may already be receiving as a result of your injuries.
If you have suffered permanent scarring or disfigurement as a result of a workplace accident, you may have grounds to pursue additional compensation. Call the work injury lawyers at McHargue & Jones today for a free initial consultation.
What Is Permanent Disfigurement?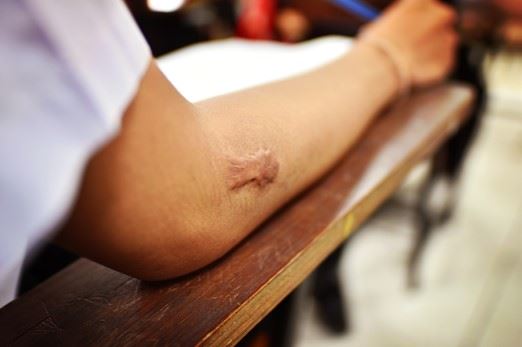 ​The Illinois Compiled Statutes, section 8(c) allow for workers to receive compensation for any "serious or permanent disfigurement" to any of the following body parts:
Hands

Head

Face

Neck

Arms

Legs (below the knee)

Chest (above the axillary line)
While the exact type of scarring or disfigurement is not specified, some common types of disfigurement include: serious scars from burn injuries (including chemical burns), scarring or disfigurement from lacerations, etc.
In order to receive compensation for your scarring, you will need to wait at least 6 months after the date of your injury to see whether or not the scarring or disfigurement is permanent.
How Much Money Is a Scar Worth?
The actual value of your permanent scar compensation will vary from one case to the next depending on how severe the scarring is and where the scarring is located. By hiring a trained workers' compensation lawyer, you can ensure that you receive the maximum compensation available to you.
Common Causes of Scarring or Disfigurement in the Workplace
Serious accidents resulting in disfigurement or scarring can occur in a variety of different workplaces. Some of the most common causes of these types of injuries include:
Being exposed to harmful chemicals

Experiencing severe burns caused by electrical shock

Experiencing serious burns caused by open flame or superheated machinery

Being involved in a work-related car accident

Crush injuries caused by heavy machinery or equipment

Amputation caused by power tools or heavy machinery

Disfigurement caused by explosions
McHargue & Jones Can Help Get You the Compensation You're Owed
No matter what type of work injury caused your scars or disfigurement, the team at McHargue & Jones is ready to fight for your fair compensation. While no amount of money can give you back what you've lost, it can help offset some of the medical costs or surgery costs related to your injuries. Let our compassionate, trial-tested attorneys fight for you.

Need help pursuing a permanent disfigurement settlement through workers' compensation? Call (312) 487-2461 today to speak with the attorneys at McHargue & Jones in a free, no-obligation consultation.