Will My Insurance Cover An Injury That Happened At Work?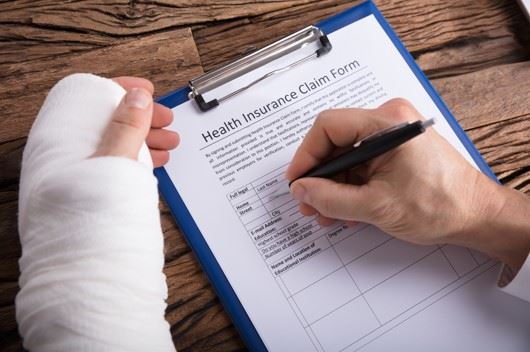 After suffering an injury at work, you may be tempted to avoid the hassle of filing a workers' compensation claim and instead decide it would be better to file a claim through your own personal insurance policy. Although tempting, there are several reasons why you shouldn't file a work injury claim with your own insurance policy. In this blog we'll explore some of these reasons and help you understand why workers' compensation is the best avenue for filing on-the-job injury claims.
Need help filing a workers' compensation claim? Or has your workers' compensation claim been denied? Reach out to our team at McHargue & Jones by calling (312) 487-2461 today! We're here to help.
What Is the Difference Between Workers' Comp and Private Insurance?
One of the biggest differences between workers' compensation and private health insurance is what types of compensation can be obtained for your injuries. While private health insurance may cover things like medical bills and medication, workers' compensation has the added benefit of replacing lost wages when an employee is forced to miss work as a result of their on-the-job injury. Workers' compensation can also provide disability benefits for employees who are either temporarily or permanently disabled. Finally, if you lose a loved one to a work-related accident, your family may be able to obtain funeral and burial expenses through workers' compensation; these types of benefits are not available through private health insurance.
Does Health Insurance Cover Work-Related Injuries?
Since coverage for work-related injuries is provided through the workers' compensation system, and most businesses are required by law to provide this to their employees, private health insurance companies are not required to provide coverage for these types of injuries. While some insurance companies may still offer this, it will depend entirely on your individual policy. Some insurance companies may be willing to compensate you for medical expenses caused by a work injury, but they may in turn pursue compensation from your employer or the workers' compensation system after the fact. In some ways, filing with your private health insurance provider for a work-related injury is a more roundabout way of obtaining the same compensation you may have been able to obtain through the workers' compensation system.
Get Help Filing a Claim Today!
At the end of the day, it's often in your best interest to pursue compensation for a work injury through the workers' compensation system. While this process may be daunting and you may feel overwhelmed, you don't have to go through it alone! The workers' compensation attorneys at McHargue & Jones provide nearly two decades of combined experience navigating the workers' comp system and obtaining fair compensation for their clients. If you have already tried filing for workers' compensation and were denied, and you're considering going through your own health insurance, call our firm! You may be able to appeal the decision and try filing again for workers' compensation benefits.

Call (312) 487-2461 today to discuss your workers' compensation needs. We're available 24/7 and offer free consultations for prospective clients.