Lost Wages & Workers' Comp
Helping Injured Workers in Chicago Make Ends Meet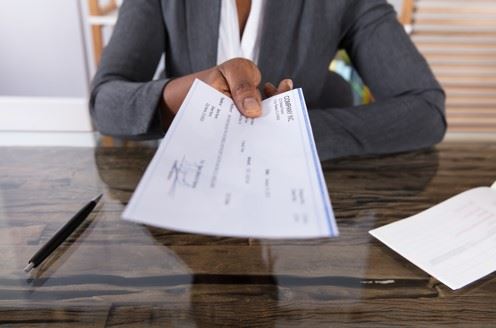 If you were hurt during the scope of your employment, then the workers' compensation benefits owed to you could include repayment of your lost wages. Disability benefits, in particular, are designed to provide 66.67% of your usual wages each week until you can return to work. If you are permanently disabled and cannot reasonably return to work, then you can qualify for permanent total disability benefits that provide missing wages for even longer.
Securing lost wages through workers' compensation is a must, but it is also a confusing process. McHargue & Jones, LLC and our Chicago attorneys would be happy to walk you through the entire process. Not only can we help you seek disability benefits, but we might also be able to secure additional forms of wage benefits that could be available to you if you know where to look.
For more information about lost wages available through workers' comp in Illinois, call (312) 487-2461 or contact us online.
Four Unique Lost Wages Benefits
When a worker is temporarily unable to work, the lost wages benefit available to them will be fairly standardized. As mentioned, most workers in this situation are eligible to receive two-thirds of their average pre-injury pay until they can work again. When a worker is never expected to return to work in their regular capacity due to a severe injury or lasting disability, permanent disability benefits can become available.
Permanent disability benefits that injured workers in Illinois might receive include:
Wage differential benefits: When a permanently disabled worker can return to work in a lighter capacity but earns less income because of it, they can earn wage differential benefits. This benefit will pay two-thirds of the difference between their new income and their pre-injury income, based on averages. It can last for 5 years or until the worker turns 67, whichever event happens later.
Scheduled loss-of-use awards: If a disability is related to the loss of a bodily function or a body part, then you can be paid a scheduled loss-of-use award. This payment is equal to 60% of your average pre-injury weekly wages times a preset number of weeks meant to represent the severity of your disability. This final result can then be reduced if the disability in question is not total or 100%.
Nonscheduled awards: A worker with a permanent disability that is not on the "schedule" of injuries recognized by the Illinois Workers' Compensation Commission, then a loss-of-use award can be given by using a unique calculation. In this situation, you can be paid an amount equal to 60% of your average pre-injury weekly wages times 500, and then reduced based on the percentage of your "whole body" disability, which is determined by your treating physician.
Disfigurement benefits: A permanent disfigurement that can easily be seen by the public can entitle you to a disfigurement benefit payment. This sum will be equal to 60% of your average pre-injury weekly wages, which is then multiplied by any number between 1 and 162. This multiplier is determined by the extent of your disfigurement.
Workers' Compensation Lost Wages FAQ:
Do You Get Full Pay On Workers' Compensation?
Unfortunately, no. Most workers will not be able to receive 100% of their wages while on workers' compensation. However, if you are unable to return to work due to disabilities caused by your work injury, there are ways that you can increase the amount of compensation you are receiving with the help of our workers' comp attorneys.
How Are Workers' Compensation Wages Calculated?
Wage replacement amounts are calculated based on how much you were making on average prior to your injury. For the first 13 weeks you should be able to recover 95% of your average weekly income. However, after 13 weeks your income may be reduced to 80% if you do not return to work or are working less than 15 hours per week. In order to continue receiving payments after 130 weeks you will need to demonstrate that your injuries prevent you from returning to work.
How Often Does Workers' Comp Pay?
In general, most injured workers will receive weekly compensation for lost wages for as long as they are on workers' comp. The duration for which you will continue to receive benefits will depend on how serious your injuries are. You can read more about this on our disability benefits page.
Don't Leave Benefits Unclaimed – Call Us Now
McHargue & Jones, LLC can help you explore your rights as you seek lost wages through workers' compensation. Whether you should be paid a weekly amount through temporary disability benefits or if you need different benefits due to a permanent disability, we are the attorneys who can help you sort it all out. Our goal is to help you recover as best you can by getting the most benefits possible.
Call (312) 487-2461 or contact us online now to learn more.