Need a Chicago Workers' Compensation Lawyer?
We Have Helped Thousands of Clients Receive Compensation
Being injured on the job is particularly stressful. In addition to having to miss work while you recover, it can be difficult to navigate the complicated insurance and workers' compensation processes.
Furthermore, many workplace insurance companies try to pay out as little as possible to employees, leaving many feeling as if everyone is against them- that's why you need a Chicago workers' compensation lawyer in your corner.
Illinois Workers' Compensation
Workers' compensation laws include stipulations for those seeking compensation for their injuries sustained at work. The laws outline the types of injuries that this insurance covers and the damages that an injured worker can obtain compensation for.
Because of these guidelines, workers' compensation regularly denies claims or offers the lowest possible compensation that the injured party should be granted. For that reason, it is important to work with a knowledgeable work injury attorney who can help you pursue maximum recovery. This is where our Chicago workers' compensation lawyers can help.
What Is Workers' Compensation?
By law, employers must follow the Workers' Compensation Act. This includes providing benefits and compensation to most employees who are injured on the job or as a result of their job, including injuries associated with exposure to toxic or dangerous chemicals. If you have been injured in an accident at work or while performing your job, you may have grounds to file a workers' compensation claim. Consulting an Illinois workers' comp attorney can help clarify the benefits that you may qualify for.
How Many Accidents Are Caused By Work in Illinois Each Year?
2019 statistics reported by the U.S. Bureau of Labor Statistics revealed the following about Illinois work injuries:
The state experienced over 104,000 nonfatal work injuries in 2019.
These injuries resulted in over 35,000 workers missing at least one day of work
Additionally, over 24,000 workers were forced to transfer jobs or continue working with restrictions because of their injuries
The same study showed that the industries with the most nonfatal workplace injuries in Illinois included:
Natural Resources and Mining
Manufacturing
Education and Health Services
Leisure and Hospitality
Trade, Transportation and Utilities
When you need someone on your side after a Chicago workplace injury, contact our workers' comp lawyer in Illinois at McHargue & Jones, LLC at (312) 487-2461.
We fight for employee rights in their time of greatest need.
On This Page:
How Does Workman's Comp Work in Illinois?
Protection Through the Illinois Workers' Compensation Act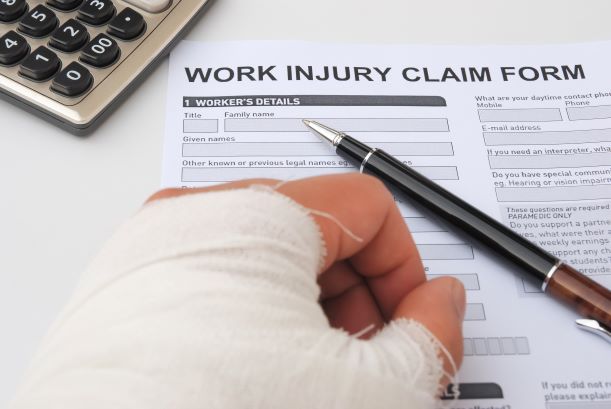 Chicago employees are protected by the Illinois Workers' Compensation Act, which requires anyone with one or more employees to cover the costs of all work-related injuries. No matter who was at fault, workers' compensation insurance kicks in if anyone is accidentally injured, disabled, or killed in the workplace. This act also protects employees from facing retaliation should they need to file for damages under the act.
Third-Party Liability in a Workers' Comp Case
Sometimes workplace accidents aren't due to employer or coworker negligence or mistakes. When this is the case, injured employees (or the survivors of deceased employees) may be able to sue related third parties. This might include:
Manufacturers of faulty equipment or defective products
Delivery drivers employed by another company
Owners of dangerous offsite properties
In third-party lawsuits, employees have a stronger burden of proof. They must show that the accused party is responsible, at least in part, for the injury they suffered. This is when you should get a workers' comp lawyer involved. A workplace injury lawyer in Chicago has the resources, skills, and know-how to pursue the evidence you need for a strong lawsuit.
What If My Work Injury Was My Fault?
Workers' compensation insurance is a no fault system that does not require a determination of liability in order to recover benefits. An employee who is injured on the job can usually receive funds from their company's workers' compensation insurance, regardless of whether or not their employer caused the accident. Many employees feel that they do not qualify for workers' compensation benefits if they caused their own injuries, but that is not always the case. If you have any confusion about your workers' compensation insurance and if you qualify for business, you should contact a Chicago workers' comp lawyer for the answers you need.
​Injuries Caused by Forgetfulness, Mistakes or General Negligence
In some cases, employees injure themselves in events that are purely accidental. Accidents can happen at any workplace, and employees cannot be excluded from the workers' compensation system because of their contributions to an accident. Injuries caused by an employee's mistakes, ignorance of safety procedures, or any other negligent reason can still recover compensation. Workers' compensation is a no-fault system, so the cause of an accident is not generally considered in the allocation of benefits.
Injuries Caused by Misconduct and Gross Negligence
Although employees who are technically at fault for their own occupational injuries are able to recover workers' compensation benefits, in some cases benefits are usually prohibited from employees who injured themselves by engaging in misconduct or gross negligence. This may include being under the influence of alcohol or drugs, or completely ignoring safety measures in a way that is considered extremely negligent. For example, an employee who is purposefully misusing dangerous equipment may not be able to recover benefits because they participated in a known-to-be-hazardous activity.
If you're still not sure whether or not you have grounds to file for workers' compensation, reach out to our team today to discuss your situation in greater detail. Our workers' comp lawyer in Illinois offers free, no-obligation consultations to prospective clients. Call (312) 487-2461 today!
Common Dangers Found in the Workplace
Some jobs are more obviously dangerous than others, but all employees face some risk at work. Falls are one of the most common work injuries, and anyone from an office worker tripping over an unsecured cord to a fast food employee slipping on spilled oil can be injured. Workers across many industries, including receptionists, nurses, waiters, customer service representatives, and more, face repetitive stress injuries like Carpal Tunnel Syndrome.
Just because you assume workers' compensation is for construction workers, firefighters, or others who perform heavy manual labor doesn't mean you can't file for help. If you're not sure where you stand, contact a workers' compensation lawyer in Chicago to learn more.
These Industries Face High Injury Rates
In 2019, 158 workers died on the job in Chicago (U.S. Bureau of Labor Statistics). Over 104,000 others sustained injury or illness in the workplace that year, with a little more than half of those missing at least one day of work (BLS). Though injuries did happen across many industries, some occupations stood out as much more dangerous:
Truck drivers
Auto mechanics and techs
Agricultural workers
No matter your industry, our team at McHague & Jones, LLC can help evaluate your workers' comp claim. Call our workers' comp lawyer in Illinois at (312) 487-2461 or reach out online with your questions.
Workers' Compensation FAQ:
Countless people sustain injuries, from back injuries to loss of limbs from machine injuries, and illnesses at work or while traveling for work each year. If you are a full employee (not an independent contractor), you are likely protected by workers' compensation. The insurance kicks in the moment someone is injured due to a work activity. You and your employer will both need to submit the paperwork to start the claim process, and you'll need to be evaluated by a doctor.
What Benefits Can I Receive Under Workers' Comp?
Workers' compensation is part of the guarantee your employer provides in exchange for your labor. Especially in a tight workplace, it may feel odd asking for insurance coverage for an injury. However, this compensation can be vital to your financial stability. It can cover:
Recovery expenses
Future treatment costs
How Long Do Workers' Comp Settlements Normally Take?
In general, the more complicated a workers' compensation claim is, and the higher the settlement amount, the longer it will take to settle the claim. This is because the insurance company will likely want to investigate your claim and demand more evidence. The average claim can take several months to resolve, and sometimes up to several years.
What Causes Workplace Injuries?
A dangerous workplace doesn't necessarily signal an ill-intentioned employer. Most companies really do mean well. But, a small mistake at the top of the chain could result in serious consequences for those on the floor. Here are the factors that cause most workplace accidents:
Inadequate training
Unsafe working environments
Failing to adhere to safety codes
Unreasonable working schedules
Improperly maintained equipment
Exposure to dangerous substances and toxic chemicals
Do I Have a Workers' Compensation Case?
A solid workers' compensation case should be built on the following facts:
Your injury was work-related
You have been denied benefits by the insurance company or your employer
Because you have not received these benefits you are unable to return to work or live a fulfilling life
The best way to determine whether or not you have a workers' compensation claim is to discuss your unique situation with a professional workers' comp attorney. The attorneys at McHargue & Jones offer free initial consultations for potential clients, so you have nothing to lose!
What Should I Do After a Workplace Accident?
If you've been injured in the workplace, the first thing you should do is seek medical attention. Delaying care is not only dangerous—it may hurt your case. Usually, insurers expect injured parties to minimize damages after the accident. If your reticence to visit a doctor makes your injury worse, you may be required to pay some of your medical costs.
Next, you should ask your employer for the papers you'll need to file a claim. They are required to report the injury, but that alone won't trigger the insurer to act. You must report your injury to a manager within 45 days of the incident, and then fill out an application for a claim. This is where you may want to begin working with a workers' compensation attorney in Chicago. Our experience can guide you through filing, and we can negotiate with the insurer on your behalf, so you get the necessary compensation for your recovery.
When Do You Need a Workers' Comp Lawyer in Illinois?
In general, you should consider hiring a workers' comp attorney if you encounter any of the following issues while filing your claim:
Your claim was denied
The insurance company disagrees with the disability rating you were given by your doctor
You already had a preexisting medical condition prior to your injury
The insurance company is delaying paying for the medical treatment you need
You won't be able to work in the same capacity again because of your injuries
You are already receiving other government benefits such as Social Security Disability
You are being asked to attend a workers' compensation hearing
My accident was a slip and fall at the workplace, what should I do?
Slip and fall injuries are some of the most common work-related accidents that occur on the job and warrant a workers' compensation claim. This is due, in part, to the fact that slipping and falling is a job hazard of virtually every occupation in the U.S. Whether you work in the food industry, retail, or at a desk, you are never immune from the possibility of slipping on a wet surface or tripping over a congested walkway. As you'll see from the list below, some of the most common causes of slip and fall accidents at work can happen in any job setting:
wet surfaces;
uneven surfaces;
moisture collection;
obstructed walkways;
loose floorboards or mats; and
recently waxed or mopped floors.
Unfortunately, insurance companies don't want to cover on-the-job injuries and they will do everything in their power to deny the workers' comp claim you file. That's why it is imperative that you fully document the accident, including environmental factors connected to the fall, and act quickly when filing. A workers' compensation lawyer can help you prepare your claim or appeal a claim that's been denied by the insurance company.
Can I Be Fired for Filing a Workers' Compensation Claim?
No. The Illinois Workers' Compensation Act prohibits employers from retaliating against their employees for filing a workers' compensation claim; this includes firing. However, if you are an at-will employee, this means that your employer does not have to give a reason for firing you. This can make it difficult to prove that the reason you were fired was because of your workers' compensation claim. If you believe that you were terminated in retaliation, contact our firm today and we can help you determine what your next steps should be.
Why Was My Workers' Compensation Claim Denied?
A workers' comp claim may be denied for several reasons:
You filed your claim after you were fired or laid off
You did not present sufficient evidence that you were injured on-the-job
You didn't report your injury in time
Your medical records do not match up with your accident report
You were using illegal drugs at the time of your accident
Along with any of the above issues, if you failed to fill out your forms properly, or provide all of the documentation that was requested, your claim may be denied. Our team is here to ensure that you don't miss any of the steps when filing a claim. If your claim was denied and you're not sure why, contact our workers' comp attorneys today to discuss your claim!
How Long Do You Have to File a Workers' Comp Claim in Illinois?
Illinois workers are required to report any work-related injuries to their employers within 45 days of the incident. If you wait too long to report your injury, your employer may claim that there is a lack of evidence supporting your claim and they may refuse to compensate you for your injuries.
While you are required to report your injury to your employer within that timeframe, the Illinois statute of limitations also allows workers to file a workers' compensation claim for up to 3 years after the date of their injury. This may become necessary if you were initially told that you did not qualify for workers' compensation benefits but found out later that this was untrue.
Know Your Workplace Rights
Workers' compensation can be complex. Check out our Frequently Asked Questions to learn even more about the law. Or, check out our compendium of blog posts on specialty subjects:
Call

(312) 487-2461

to Schedule a Free Consultation with a Chicago Workers' Compensation Lawyer
Workers' compensation laws are important, as they are what protect workers from unscrupulous employers and unsafe work conditions. At McHargue & Jones, LLC, our Chicago workers' comp attorneys treat every case with the care and attention it deserves. We fight aggressively for employee rights, and we are prepared to fight for you. We believe in creating strong attorney-client relationships and, in addition to offering free consultations, our entire office is also fluent in Spanish.
Our goal is to support you and help you get the compensation you need. Also, our work injury lawyers accept cases on a contingency fee basis, meaning you do not pay us unless our Chicago workers compensation lawyers win for you. We will use every tool provided by the law to get our clients maximum compensation for their injuries.
Schedule a free evaluation with one of our workers' comp lawyers in Illinois by calling (312) 487-2461.