Many people scoff offhandedly when they hear that someone is suing a business "just because they tripped." What they don't realize is that slip and fall accidents can lead to severe and even catastrophic injuries. For this reason, employers and public property owners have a legal obligation to maintain a safe premise for any guests, employees, and passerby.
This law is particularly important Illinois. As any Chicago resident knows, our fine state experiences intense and fluctuating weather patterns. If it's snowing or raining, business owners and employers need to take reasonable steps to ensure the safety of their guests and workers. In this scenario, the property owner could set out mats, put up warning signs, and dry the floor if it's wet. Otherwise, a guest could slip on the water and sustain injuries that necessitate need immediate medical attention. In this circumstance, the injured party may have grounds to file a premises liability claim.
Slip and fall accidents commonly occur at:
Office buildings
Hospitals
Restaurants
Grocery stores
Apartment spaces
Construction sites
Shopping malls
Nursing home facilities
Parks
Hotels
Parking structures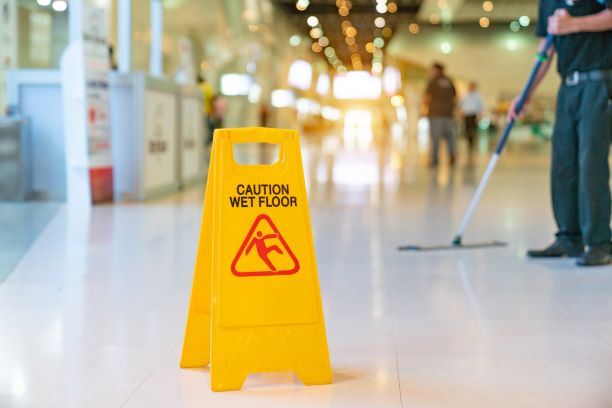 According to the Centers for Disease Control and Prevention (CDC), over 800,000 patients are hospitalized for injuries caused by slip and fall accidents each year. It should come as no surprise that slip and fall cases are the most common premises liability lawsuits filed in the United States.
Common slip and fall injuries include:
Broken or sprained bones
Traumatic brain injuries
Nerve damage
Hip fractures
Neck or spinal cord injuries
Pulled or torn muscles
Lacerations
Before taking legal action, it's important to first discuss your case with a qualified personal injury attorney. Due to Illinois' comparative negligence laws, you may experience several legal challenges if you decide to take on the property owner's insurer alone.
At McHargue & Jones, LLC, our premises liability lawyers in Chicago can investigate your case, research the property owner, and develop a litigation strategy that proves the negligent party is responsible for your condition and injury-related expenses. Part of this argument involves evidencing that you were welcome on the property and exposed to a specific danger that forced you to fall.
Hazardous conditions that lead to slip and fall accident include:
Water puddles or pipe leaks
Cracked or uneven flooring
Clutter and debris
Unstable or absent handrails
Rickety staircases
Poor lighting
Recently waxed floors
Potholes
Unsalted ice
Cords or cables on walkways
Of course, the defendant may try to dispute your claim just to save money or protect their premium. Compensation in a slip and fall case can be influenced by the state's modified comparative negligence rule. In other words, if the court determines that you're 50% at fault for an accident, your damages will likewise be reduced by 50%.
The defendant's legal team may try to utilize the following arguments to prove that you're fully or partly at fault for the accident:
You were trespassing or went into a private or restricted area.
You were using your phone and not paying attention to your surroundings.
You ignored reasonable safety warnings or acted in a way that ultimately caused the accident.
You were intoxicated at the time of the accident.
You were wearing inappropriate footwear
You failed to display reasonable concern for your own well being
You should have been aware that the area was potentially hazardous
Pursue Compensatory Damages Today
If you've been injured in a slip and fall accident, contact the Chicago premises liability attorney at McHargue & Jones, LLC. Our trial-tested legal team can investigate your case, establish liability, and help you pursue damages that facilitate your physical and financial recovery. A successful lawsuit can yield compensation that covers your:
Medical bills
Lost wages
Pain and suffering
More
If you're ready to take legal action, turn to a personal injury law firm with nearly 20 years of dedicated legal experience.
Contact McHargue & Jones, LLC at (312) 487-2461 to schedule a consultation today. We offer our services on a contingency fee basis.