Chicago Pedestrian Accident Attorneys
Representing Injured Pedestrians Hit by Drivers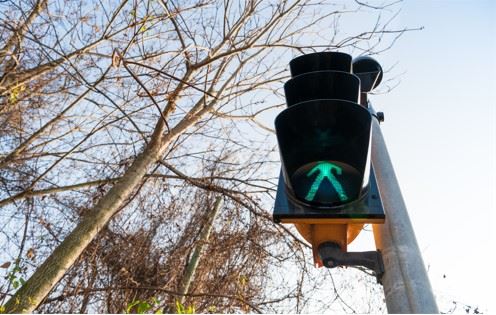 Pedestrians who are struck by motorists often suffer life-changing injuries. The legal representation you hire to work on your pedestrian accident case needs to understand what is at stake and know how to fight the fiercest of competitions. If you live in Chicago and were hit by a driver while walking along or across the street, then you can rely on McHargue & Jones, LLC to elevate your case and pursue every penny of compensation you deserve.
Why you should hire us for your case:
Nearly 20 years of legal experience
Millions of dollars recovered for our clients
Personalized attention
No fees unless we win your case
Talk to our Chicago pedestrian accident lawyers by calling (312) 487-2461. Se habla Español.
Who Is At Fault in a Pedestrian Accident?
Determining fault in a pedestrian accident can be difficult without concrete evidence of what happened. The driver is going to blame the pedestrian and vice versa. Who is correct and who is mistaken? The location of the pedestrian accident and traffic conditions could determine the answer.
Pedestrian accidents happen the most in urban settings, especially along stretches of road like avenues or thoroughfares. According to the National Highway Traffic Safety Administration (NHTSA), only about one-in-four pedestrian accidents happen at intersections, which is contrary to what most people assume.
At all times, a driver has to yield the right-of-way to a pedestrian when it is safe and will prevent an accident. For this reason, drivers are often assumed to be liable for a pedestrian accident. However, there are clear exceptions to this driving rule, and pedestrians can be mostly or partially liable for a collision if their negligence caused it and the driver had little time to react.
Who Is At Fault If a Jaywalker Gets Hit?
Jaywalking is a generic term for crossing an occupied street without using a crosswalk. In Illinois, pedestrians can be cited for jaywalking if it causes a hazard. It can also increase a pedestrian's liability in an accident if they were jaywalking at the time.
Pedestrians should yield the right-of-way to moving traffic when there is no:
Crosswalk
Walking path
Pedestrian overpass
If a pedestrian walks suddenly into traffic, then it is likely that they will be found at fault for an accident. But if a pedestrian stands by the side of the road, gauges oncoming traffic, and steps into the road when they believe it to be safe, then the questions of fault and liability will be much more complicated. Motorists need to pay sharp attention to the road to avoid jaywalkers, especially when they are already in the road. If you cross the road without the right-of-way and a car hits you, but that car should have noticed you and had time to come to a complete stop, then the driver is likely still liable.
How Much Compensation Do You Get for a Pedestrian Accident?
The compensation made available to you as an injured pedestrian will vary depending on the severity of your injuries and their consequences. The worse you are injured, the more medical attention you will need and the more time off work you will require to rest. Both of these factors combine can rapidly increase the overall damages caused by a pedestrian accident.
Using the help of our law firm, you can demand that the motorist and their insurance company pay for your medical bills and lost wages. You can also demand more abstract damages – called noneconomic or general damages – related to the pain, suffering, and hardship you have endured due to the accident.
Standing Up for Pedestrians After Terrible Accidents
It can be difficult to find your footing and a direction after being hit while walking across or down the street. McHargue & Jones, LLC and our team of pedestrian accident attorneys in Chicago would like to help you make the next move. Our goal is the same as yours: getting as much compensation for your damages as possible.
Our pedestrian accident lawyers in Chicago want to help. Please call (312) 487-2461 as soon as you can.