Back Injury Attorneys in Chicago
Helping Clients Injured in Lifting Accidents at Work Pursue Compensation
Many jobs require employees to lift heavy objects throughout the day. If you have a job like this, perhaps as a delivery truck driver, you have an increased risk of injuring your back through a lifting accident. At McHargue & Jones, LLC, our Chicago back injury lawyers are well-versed in how these types of cases are handled in Illinois. Since 2000, we have helped thousands of clients obtain the compensation they needed to recover. If you or a loved one has been injured in a lifting accident at work, we can help.
For a free consultation, contact one of our back injury lawyers in Chicago at (312) 487-2461.
Our entire office is fluent in Spanish, too. Call today for the legal help you need after a lifting accident.
Who Is at Risk for a Lifting Accident?
You'd be surprised how many careers require heavy lifting. Back injuries in construction work are particularly common. Anyone who has suffered a back or other lifting injury at work can also tell you that these injuries take time to heal. If you've suffered a lifting-related injury, it is vital that you seek medical attention immediately.
Back injuries in particular, if not treated, can result in a permanent disability that precludes you from working. This is why employers are responsible for providing proper training and appropriate safety gear if a job requires heavy lifting. Something as simple as twisting the wrong way may result in a serious injury.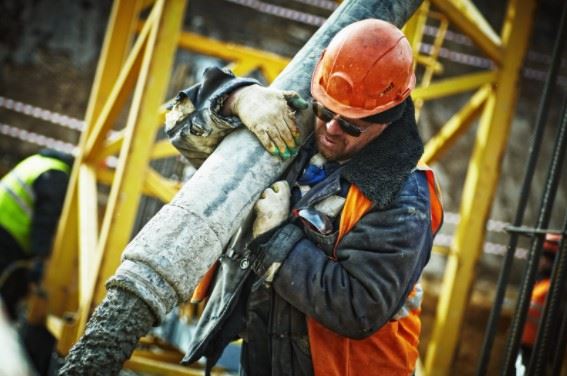 At McHargue & Jones, LLC, we have helped a wide variety of workers, including:
Delivery drivers
Dock workers
Transportation workers
Highway workers
Retail employees
Postal workers
City, state, and federal employees
What Are Some Common Back Injuries from Lifting?
Lower back (or lumbar) injuries are particularly common when it comes to lifting accidents in the workplace. This is because this is the part of your back that is involved in supporting your upper back while lifting, bending and twisting. Lifting accidents can result in many different kinds of injuries, such as:
Slipped discs
Torn tendons and ligaments
Strained muscles
Damaged vertebrae
Whether you are bending over to pick up a piece of heavy equipment or restocking shelves at a store, you may find yourself suffering from a lifting-related injury. At times these injuries can be so severe that they cause lifelong disabilities or chronic pain.
Call Us Today to Find Out if You Are Eligible for Compensation
Were you injured at work while lifting something? You may qualify for workers' compensation benefits. Our workers' compensation lawyers in Chicago can help you determine your best course of action and represent you when dealing with your employer, insurances companies, as well as in court.
This frees you up to focus on what matters: Getting better and moving on with your life. If you need help after a lifting accident, call our personal injury law firm for help. We take cases on a contingency fee arrangement, which means you do not pay our firm unless we win.
Call McHargue & Jones, LLC at (312) 487-2461 to speak with an experienced Chicago back injury attorney.